Easy Rider Dalat Motorbike Tour to Countryside & Waterfalls: Exploring Dalat's Breathtaking Landscapes
Embark on an unforgettable adventure with the Easy Rider Dalat Motorbike Tour to Countryside & Waterfalls, where you'll experience thrilling motorcycle rides, immerse yourself in the beauty of Vietnam's countryside, and witness the majesty of picturesque waterfalls. Join us for an exhilarating journey that combines adventure, natural wonders, and cultural exploration.
Experience the Beauty of Vietnam with the Easy Rider Dalat Motorbike Tour run by Rew Rew Adventures 
The Easy Rider Dalat Motorbike Tour to Countryside & Waterfalls is a once-in-a-lifetime adventure that takes you off the beaten path to explore the hidden gems of Vietnam's countryside. Get ready to hop on a motorcycle and embark on a thrilling journey that will lead you through breathtaking landscapes, charming villages, and stunning waterfalls. This tour promises an immersive experience that combines adventure, natural beauty, and cultural discovery.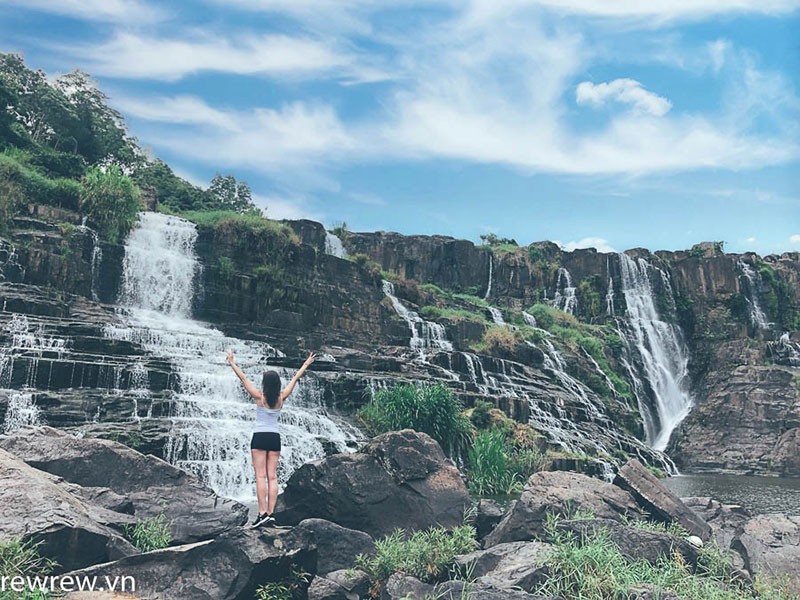 ---
You can choose different options to experience the tours with us, but the motorcycle option is highly recommended. The routes that we take will go through many back roads, small villages, waterfalls… so the experience will be best to explore by motorbike, as you can enjoy the sights, sounds and smells in a way not experienced by tour bus/car. This will be one of the greatest experiences to share with all friends. Our rides are comfortable, you will feel at ease with nature.
NOTED: Riding by yourself following our guides also available, so if you would like to experience that way, please CONTACT US for more infomation.
Detailed itinerary
Timing : start from 8:00am
Riding through one of the most beautiful Passes of Da Lat

Rice wine making + crickets farm – challenge to try some insects for the day

Biggest and most beautiful temple of the area, get to visit the biggest Lady Buddha

Buddha and Happy Buddha, you can wish too

The Elephant waterfalls (Temporary closed), but we can see it from the side of Lady Buddha

Traditional silk making factory – to understand how silk being made

Coffee plantations – special weasel coffee – enjoy the coffee with amazing

Countryside view
Visit the Pongour waterfalls – one of the most beautiful waterfall in the South of

Vietnam

The mushroom village – interact with local to see how they grow mushroom

Chicken Village – the village with big statue of the chicken, another village of the

ethnic people

Tuyen Lam lake – the paradise lake – good chance for taking photos
Trip will end around 5pm.
Inclusive
English speaking guides, protection gears,  insurances, tickets, entrance fees.
Exclusive
Food and drinks, personal spend, some small tip if the guide make your day (optional).
---
What to bring
You should prepare some sunscreen for the day, unless you wanna become lobsters :)))
Flip flops are not good for activities, so shoes and sandals are recommended, we all know shoes make you look more active and cooler in the photos.
Don't forget to bring you camera, there are lots of beautiful and interesting things to capture for the whole day.