Easy Rider Dalat Motorbike Tour to Mui Ne: Unveiling the Exhilarating Journey
Embark on an unforgettable adventure with the Easy Rider Dalat Motorbike Tour to Mui Ne. Discover the scenic beauty of Vietnam while experiencing the thrill of riding through picturesque landscapes. Join us as we unveil the secrets of this exhilarating journey.
The Experience with Easy Rider Dalat Motorbike Tour to Mui Ne by Rew Rew Adventures
Are you ready for a thrilling escapade? The Easy Rider Dalat Motorbike Tour to Mui Ne promises an exhilarating experience, combining the awe-inspiring natural beauty of Vietnam with the adrenaline rush of motorbike riding. Strap on your helmet, rev up your engine, and get ready to explore the stunning landscapes that lie between Dalat and Mui Ne.
The Easy Rider Dalat Motorbike Tour to Mui Ne is not merely a physical journey; it is an exploration of Vietnam's diverse landscapes, culture, and spirit of adventure. You feel bored with the buses and want to explore more about Vietnamese beauties and cultures? Our adventures will meet your needs
---
Detailed itinerary Easy Rider Dalat Motorbike Tour to Mui Ne 2 days
You can choose different options to experience the tours with us, but the motorcycle option is highly recommended. The routes that we take will go through many back roads, small villages, waterfalls… so the experience will be best to explore by motorbike, as you can enjoy the sights, sounds and smells in a way not experienced by tour bus/car. This will be one of the greatest experiences to share with all friends. Our rides are comfortable, you will feel at ease with nature.
NOTED : Riding by yourself following our guides also available, so if you would like to experience that way, please CONTACT US for more infomation.
Day 1: Da Lat – Di Linh (130km)
At 8:00am, before leaving Da Lat, we're going to explore the beautiful countryside of Da Lat with many interesting things along the way such as: Flower farms, Coffee plantations, Silk factory, Huge Happy Buddha statue , Elephant waterfall, one of the biggest waterfalls in Da Lat, Rice wine making…and many daily activities of local people.
Keep going to see the Pongour Waterfall, which was known as one of the most beautiful waterfalls of the Southern Vietnam, you can even stand under the waterfall for refreshing if you want to. On the way, we will stop to see pepper farms, tea plantations…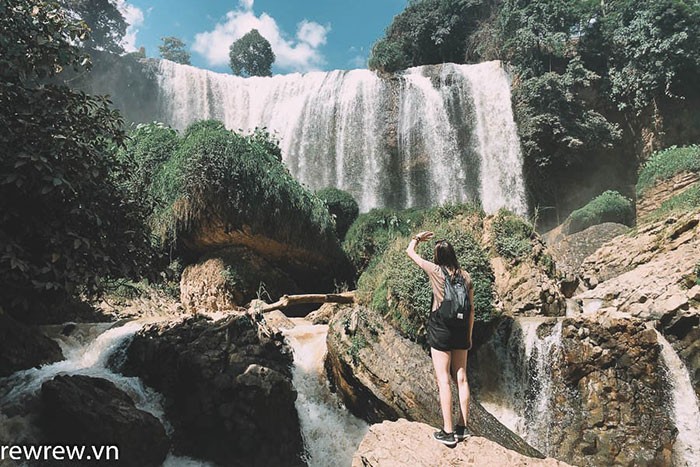 At 5:00pm, arrive to Di Linh, stay overnight in the cozy homestay, we also can have some BBQ for dinner.
Day 2: Di Linh – Mui Ne ( 140km)
Leaving Di Linh, the Southern tea kingdom, riding through the majestic mountain passes, and view many sand dunes on the way. Learning how locals grow Dragon Fruit, riding through villages and beautiful landscape. Visiting the Red Sand Dunes and Fishing village before heading to Mui Ne. You will have many photo opportunities and stories to share after the trip.
Don't forget to give our guides a hug and keep in touch. It will be an experience to remember and we hope you will leave with a new friend made.
---
Inclusive
English speaking guides, protection gears, insurances, tickets, entrance fees,accomodation…
Exclusive
Food and drinks, personal spend some small tip if the guide make your day (optional).
What to bring
You should prepare some sunscreen for the day, unless you wanna become lobsters :)))
Flip flops are not good for activities, so shoes and sandals are recommended, we all know shoes make you look more active and cooler in the photos. 
Don't forget to bring you camera, there are lots of beautiful and interesting things to capture for the whole day.